OVERVIEW
This service is for the purpose of expanding the content of your existing website (homepage). This service is provided for corporations which consider agenda of the "attraction of potential customers".

Specifically, this service finds your competitor's site and compares them by our software. What content does "your competing site have ( but the content isn't on your site )?
We find the content ( elements ) and give a suggestion to implement it in your site.


Companies' names that we can submit as results of this service are names of the companies that have official websites in the Internet. And the websites of the companies must have already been registered in the search engines.

The companies' names that we submit as results of this service are names of websites that are highly valued in the search engines. We can't submit a report of "websites that have real sales".

People to investigate in the search engines information about a product or service are "people haven't yet purchased the products or services" or "people who previously purchased the products or services but weren't satisfied with the products or services".

We think that it's the most efficient way to induce prospects to your website:
- to analyze the websites that are highly valued in the search engine
- to compare to your website
- to supply with elements missing in your website.



'I have no data yet. It is a capital mistake to theorize before one has data. Insensibly one begins to twist facts to suit theories, instead of theories to suit facts. But the note itself. What do you deduce from it?'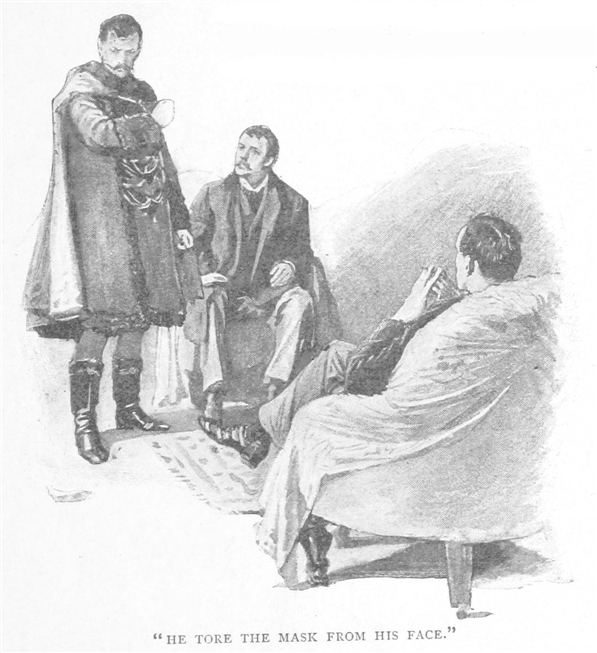 By Arthur Conan Doyle's Sherlock Holmes
More Reference (Apr 9, 2019)
In our column, the most acclaimed article in Google is a very short and NON-original article ( this one. English-ver ). In the content-SEO, specialists say "it is important that the originality is high and there is a certain amount" (because everyone thinks so if looking at the google's guide), but, in fact, it is not true.



We can assist to you to display better at search engine result. We can correspond a Multi-lingual Site, a site that has many sub domains.



What we can do for you
(0) Please send keywords by using your site-access-log.
(1) Page Content Consulting
- Mobile Friendly ( most important )
- keywords
- html
- images
- CSS
- javascript
- hyperlinks ( This service's checked log on your apache-access-log: "Link Checked, by RainbowLink Inc." )
- Schema.org itemscope
- ogp.me
(2) Link Building by checking your competitor's backlinks
(3) Modifying ( tuning ) Apache Web Server and BIND DNS Server
- gzip and deflete
- cache
- BIND and resolv, any DNS modules in the LAN
(4) Creating or modifying your account on Search Engines
- Bing Webmaster
- Google Search Console
(5) Creating a sitemap
-.txt ( text-type sitemap file )
-.xml ( important )
- This service's checked log on your apache-access-log: "Sitemap Generator, by RainbowLink Inc."
About "(1) Page Content Consulting" of "We can do for you"
In (1), we might rewrite html/xhtml source and CSS, but we don't rewrite your page ( Rewriting is your business after our consulting. Because we know about your products less than you. We think a person who sells a product is the best writer/SEOworker in the world. We think that the article you wrote is the strongest tool to get high rank at search engines because of originality and profundity. "Unique Article" is the strongest in SEO-world even if the grammar and the spelling are a little wrong. Of course, your article mustn't have wrong parts as much as articles that SEO-robots create automatically have. Using automated-writing robot is already an old-fashioned technique. We don't use the robots. Using the robots is recognized as a black hat technique by the search engines now).
At first, we see your access log by using Access-Tracking-Tags Totalizers and visitors.
Then, from your access log and Google search console, we will create a "keyword data to be based". Next, we will determine the keywords based on the data taken from multiple tools, such as Google Keyword Planner, and if your page is written in Japanese language, our 'キーワードリスト自動作成ツール( Automatic Keyword list creation tool )'.
By using our software, as a reference, we submit your competitor's headline structure like below:

Example of the Headline Structure ( screenshot )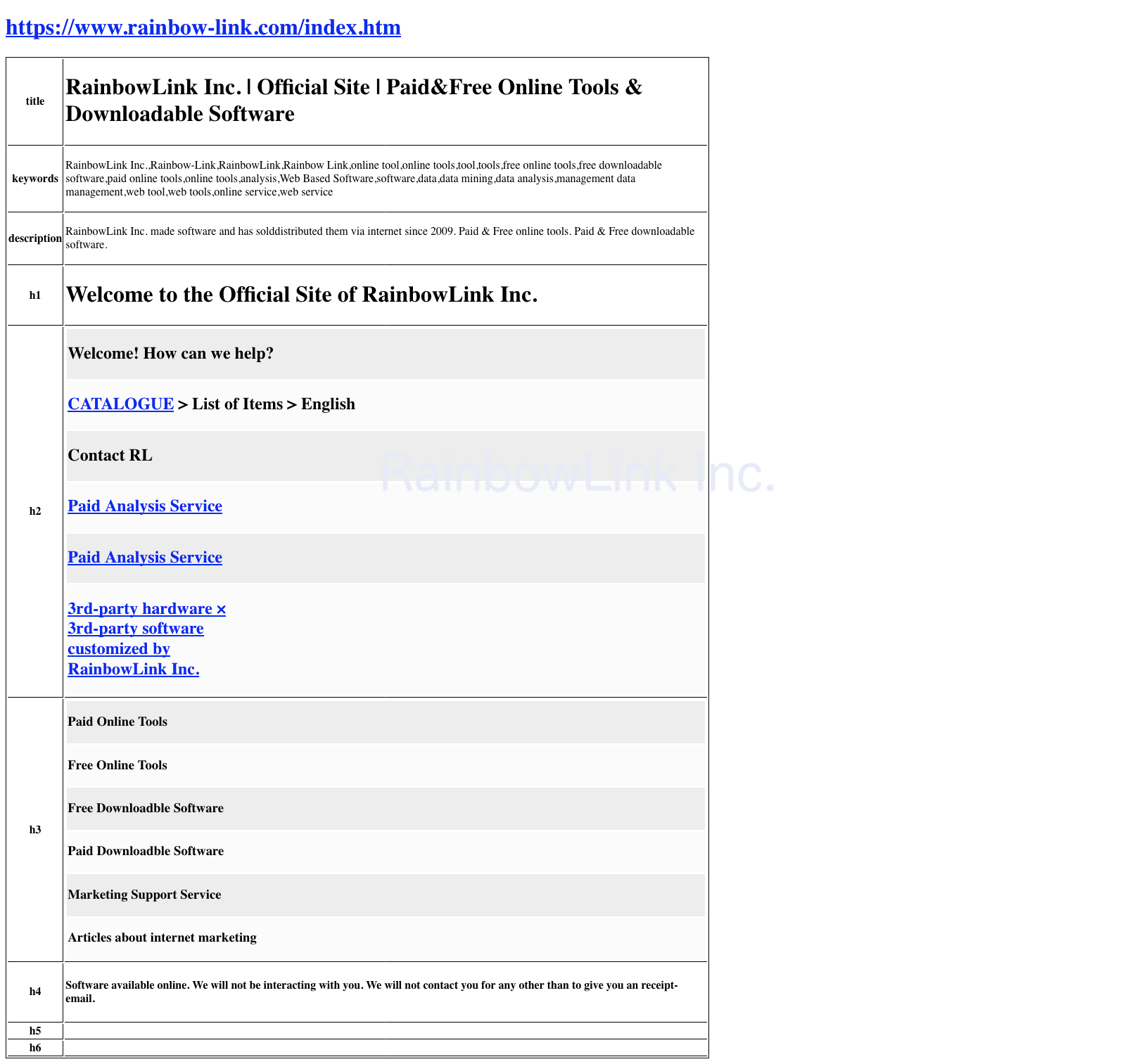 Description of the Headline Structure
* A html file. Hyperlink available.
* title, description, keywords, h1 - h6.
* h2 are displayed max 6.
* h3 are displayed max 6.
* If you have assigned a class for responsive, the same heading appears duplicate ( The software detects both for-pc-heading and for-SPheading and displays both of them ). We're sure some customers may have heard the word "duplication is not good for SEO", but search engine crawlers can read not olny html but also CSS to make headlines. Therefore, even if there is a "duplicate heading", if it is a duplicate for the design, there is no problem in the actual operation.

We think the best way of SEO doesn't increase sales. We give priority to the method that is suited to sales. And we check all likes at your site. In this case, our link checking robot writes the text "Link Checked, by RainbowLink Inc." as an user-agent in your site-access-log.


About "(2) Link Building by checking your competitor's backlinks" of "We can do for you"
In (2), you don't have to do anything. We choose link-sites for you by software and we make the link from the sites to your site by hand. If the sites are too strong, in other words, when the sites make your site display lower (11-) at search-result, we'll delete the posted links. And we choose new sites better and make the link from them. Of course, we report to you by sending a mail one by one when we make a link / delete a link.




About "(3) Modifying ( tuning ) Apache Web Server and BIND DNS Server" of "We can do for you"
In (3), we modify the settings of your apache web server(s) and bind DNS server(s). We do this only in the case the third party organization should do it and if you want to make us do it. We don't do (3) on the basis as our original analysis result.




About "(5) Creating a sitemap.txt ( text-type sitemap file )"
We examined the result of sitemaps, and we found that we could control the search engines by a sitemap file.
【Steps】
(1) We will take our crawler ( "Sitemap Generator, by RainbowLink Inc." ) and get all your internal links.
(2) We will match the results of (1) with your existing sitemap and create a report and a sitemap draft.
(3) Please take a look at (2) and create a new sitemap for your site.
(4) We ( or you ) upload your new sitemap to your server.

Add your sitemap's URL to robots.txt if you create your sitemap for the first time and you'd like to upload your sitemap by yourself:
- Example
Sitemap: urllist.txt
You can do Apache Web Server tuning by yourself

- Mozilla Observatory

You can modify your site by yourself by using the result of Mozilla Observatory.
Attention
✓ We can't resuscitate the purged site and we can't do SEO for the site where was imposed the penalty by Search Engines once ( we can work for the site, but we can't guarantee the result of our work as a usual site.
✓ If you are a Software Vendor, IT firm, we can't work for you. ( Because we are a software vendor ). If you are a Design Firm, you can use us ( Because we don't sell any designing service ).




Check your site's keywords. Obtain what words are popular in your site.
You can get your list of keywords at your Bing Webmaster, Google Search Console, at your server ( access log system ).




Let's Estimate
Our response is an estimate.
We'd like to see your access log by using Access-Tracking-Tags Totalizers and visitors. So, please upload
your access log.
EVENTS & NEWS
18 / Jul, 2018

RainbowLink Inc. created a new service to the "Competitive Analysis". The sevice is '(5) Creating a sitemap.txt ( txt-type sitemap file ) '.

time / place Competitive Analysis